Google on Wednesday offered a look at a previously secret project to develop Internet-connected glasses, staking out a lead position in a futuristic and fast-growing area known as wearable computing.
The glasses, which are still in a prototype stage, would place a small see-through display screen above a person's eye that can show maps and other data. The wearer could use voice commands to, say, pull up directions or send a message to a friend.
Apple, a major Google rival, is also reportedly working on wearable computers. In April 2008, the company filed a patent for a headmounted display system that showed glasses with screens.
But Google has amassed some of the leading experts in this field within Google X, a company lab responsible for such projects that was also something of a company secret before Wednesday.
Some more basic wearable computers are quickly becoming everyday products. Nike began selling a bracelet called the Fuel-Band earlier this year that tracks a person's activity. A company called Jawbone sells a similar monitoring device called 'Up'.
Motorola sells a head-mounted display device aimed at business use 'Golden-I' , with the screen on an arm that hangs in front of the wearer's face.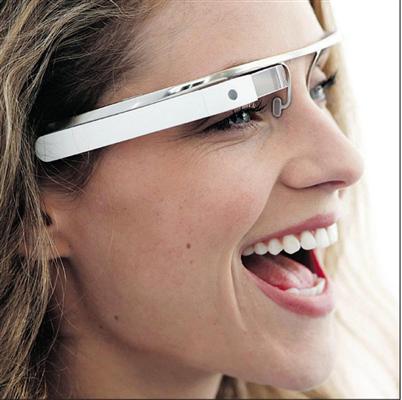 The design prototype Google unveiled on Wednesday looks more like a well-designed pair of wraparound glasses – but with no actual glass in the frames. A person working on the project said Google was having its employees test out dozens of other designs, to give outsiders access to an early version later this year.
Although some may salivate at the idea of these sci-fi toys, it is unclear whether people will want to wander the streets with a screen in their field of view.
Yet people who have seen and used working prototypes said there seemed to be a misconception that the glasses would interfere with daily life by bombarding wearers with information and distracting them from the real world.
One such person said, "They let technology get out of your way. If I want to take a picture, I don't have to reach into my pocket and take out my phone; I just press a button at the top of the glasses, and that's it." In a post on Google Plus, employees from Google X asked people for feedback on the project, which The New York Times first wrote about in February. "We're sharing this information now because we want to start a conversation and learn from your valuable input," wrote Parviz, Steve Lee and Sebastian Thrun.
A video released by Google, shot from the perspective of a glasses-wearer , showed how the glasses might work. A man wanders the streets of Manhattan, communicating with friends, seeing maps and other information, and snapping pictures. At the end he plays the ukulele for a friend over a video link.